Bourbon & Whiskey's
Check out our range of bourbon's and whiskey's available for takeaway. Just follow the link below to order through our Facebook page.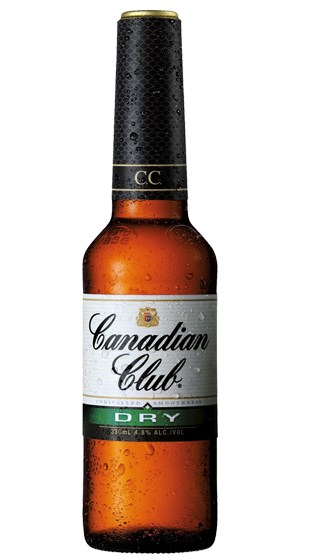 Canadian Club & Dry 330ml $3.20 Each (Sold Out)
Your favourite refreshing drink. Just add a slice of fresh lime and enjoy
4.8% ABV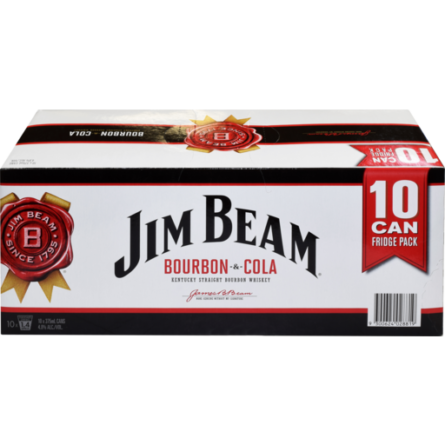 Jim Beam & Cola 330ml Can
1 For $2.50 Each
10 Pack For $23.50
Jim Beam is the best-selling brand of Kentucky straight bourbon in the world. Perfectly pre mixed with cola for your convenience.
4.8% ABV
Jim Beam 1L $47.00
The standard -bearer of Kentucky Straight Bourbon Whiskey. Aged twice as long as required. Great for mixing with cocktails, and a great introduction to Bourbon Whiskey. The Bourbon to keep on hand. On any and all occasions.
37% ABV
Jim Beam 'Black' 1L $54.50
Elegant, smooth, refined. That's what 8 years of ageing will do to a bourbon. A premium bourbon with a more flavourful character. Meant to be sipped and savored.
40% ABV
Woodford Reserve Bourbon 700ml $63.00
Rich, luminous mahogany with honey tints. Elegant and creamy, with strong notes of vanilla that overlap a rich dark fruit medley, along with butterscotch, cinnamon and a dash of black pepper. Mouth-filling spice, vanilla, caramel and fruit flavours, with a touch of mint. The finish is long, smooth and clean, with slight spice and pepper – refreshing.
40% ABV
Maker's Mark 1L $71.00
No changes, no compromises, no comparison. Full-flavored, yet remarkably easy to drink, Maker's Mark has a taste that took years to perfect. Then, we spent the next 40 years making sure that taste never changed.
Woody oak, caramel, vanilla and wheat prevail in the nose. Sweet and balanced with caramel, vanilla and fruity essences. The finish is smooth and subtle.
40% ABV
Cutty Sark, Blended Scotch Whisky 1L $49.50
Cutty Sark is an easy-to-drink blended scotch whisky, which is light in colour and flavour (but heavy on the fun). It was created for mixing with mates – without overwhelming anyone's taste buds!
40% ABV
Jack Daniels Whiskey 1L $61.00
Jack Daniel's Tennessee Whiskey is made using a very old process of passing the newly distilled whiskey through 10 foot high mellowing vats packed with sugar maple charcoal. Jack Daniel's still insist on the same meticulous processes and draw water from the same natural underground cave in Lynchburg, Tennessee as Mr Jack Daniel did all those years ago.
40% ABV
Bowmore 15 YO Big 1L Bottle
$129.50 (Sold Out)
Matured in an inspired combination of both bourbon and sherry casks, it's the final three years spent in Oloroso sherry casks that gives Bowmore 15 Years Old 'Darkest', one of the most beautifully balanced Bowmores, the rich, deep colour reflected in its name, and its warming finish.
On the eye: Treacle dark amber.
Breathe in: Delicious dark chocolate, sun-dried fruits and a tell-tale wisp of Islay smoke.
Sip: Wonderful cedar wood and rich treacle toffee.
Savour: The robust and complex finish with a hint of sherry tannin.
43% ABV
Johnnie Walker Black Label 1L $76.00
With its origins in the 1870's Old special whisky, Johnnie Walker Black Label became simply "Black label" in 1909. It is regarded by experts as the ultimate Scotch deluxe whisky, the benchmark by which all others are measured.
40% ABV
Canadian Club Whisky 1L $45.00
Canadian Club's best selling flagship whisky is where most folks begin their whisky journey. This is the one that started the legend. A giant of Canadian whisky since 1858, its aged longer than the 3 years required by law in oak barrels before bottling for the smoothest possible flavour.
37% ABV

Fireball, Cinnamon Whiskey 1L $61.00
If you haven't tried it yet, just imagine what it feels like to stand face-to-face with a fire-breathing dragon who just ate a whisky barrel full of spicy cinnamon.
33% ABV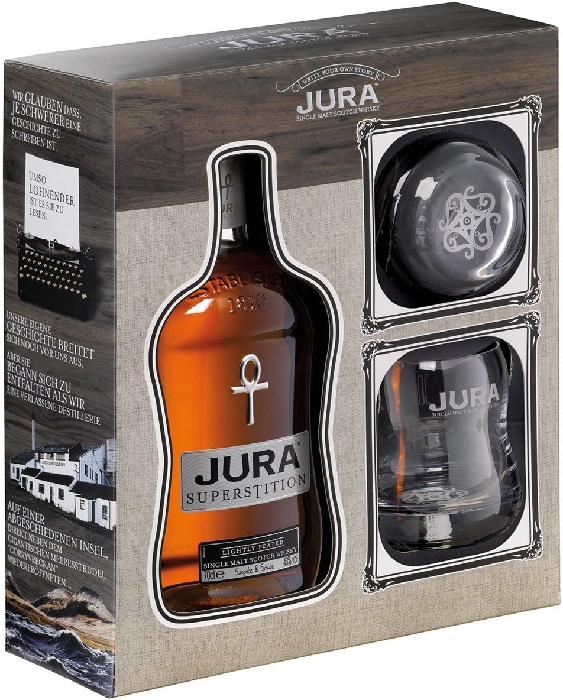 Isle Of Jura Superstition 700ml Gift Set $85.50
This multiple award winner is one of the finest malts that Jura has to offer, and given the pedigree of the distillery that's no mean feat. Superstition is a combination of variously aged malts, offering an understandably complex flavour profile with hints of chocolate and honey more prominent than most.
Gift Set Includes 2 Jura Glasses
43% ABV