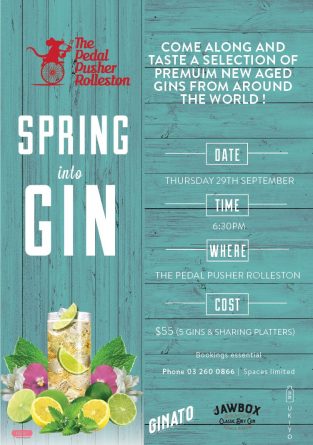 SPRING INTO GIN 
Our first tasting event of the year is here. Took a long time with all this covid stuff, but here it is.
Mark the date and time.
Thursday September 29th at 6.30 PM.
Taste a selection of premium new aged gins from around the world!
East Imperial mixers on the night to amplify the flavours of these beautiful gins even more.
$55.00 per person with sharing platters for the table.
Bookings are essential as the spaces available are very limited.
There will also be exclusive pricing on the night for the attendees who wish to order any of these amazing gin bottles.
To book your ticket, give us a ring at 03 260 0866 or drop us a line at manager.rolleston@thepedalpusher.co.nz.
T&C's Apply:
*Bookings will only be confirmed once the full payment has been made.
*Unpaid bookings will be cancelled after 7 days of the booking being made.
*Paid bookings can only be cancelled by September 18th to be eligible for a refund.
*Online bookings not available.
*Exclusive bottle pricing available for the event attendees only.